Tetris Blitz is a brand new game from EA. It was named "Blitz" because the game has a countdown, like 
Bejeweled Blitz and Solitaire Blitz.
Stack tetriminos and clear lines before the time runs out. Use power-ups to help you clear lines. Place tetriminos by a single touch. After the time runs out, "Last Hurrah" will occur and all minos will collapse for making final line clears. After the game ends, you can brag the score on Facebook.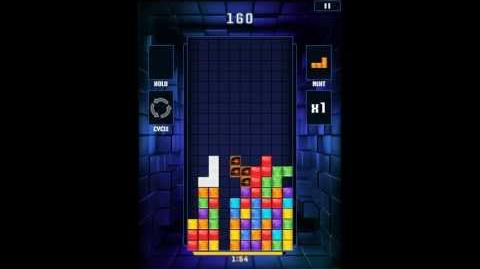 Magnet: Draws all pieces to the left of the playing area,
Quake: Shakes apart stuck tetriminos.
Lasers: 3 laser beams clear random lines. This power-up can yield an All Clear.
Time Shift: Adds 5 seconds to the timer.
Avalanche: Releases three minos at the top of each column.
Multiplier: Increases the multiplier by 1.
Meteor Storm: Powerful minos fall eliminating any gaps beneath them.
Bombs: A very powerful power-up that explodes entire columns.
Super 7: The next 7 tetriminos are optimised for clearing lines. (May yield an All Clear)
Three Strikes: The next 3 tetriminos are I-pieces.
Tunnel Vision: The left-most column and the right-most column are filled with minos.
Mega crusher: Heavy minos fall to fill gaps (may yield an All Clear)
Amplifier: Score boost when cleared.
Bulldozer: Removes the top two horizontal lines with minos in, and replaces them with three full rows of minos, which then cascades. (May yield an All Clear)
Groundswell: Sets up the bottom of the matrix for an instant Tetris clear (requires you to have an I-piece held).
Nuke: The most powerful powerup in the game. It shatters the entire matrix into minos, but does use up a few seconds from the timer to activate (depending on the size of the matrix).
Blitz'n: Similar to Avalanche, but has a Christmas theme, and drops either three or four minos at the top of each column.
Wildcard: Becomes a randomly selected power-up when activated (no longer available)
Frostbite: A block of ice forms at the base of the matrix which then cracks and dissolves to give an instant Tetris clear. Yields All Clears.
Insta-Frenzy:Activates frenzy when you need it.
Rocket: Similar to Lasers, but a rocket shoots up and drops flares which clear the lines they land on. This power-up can yield an All Clear.
Bolt: Special I-Pieces bolt down into the matrix crushing minos to fill holes and clear more lines.
Twin Rams: 4 lines of minos enter the matrix clearing extra lines.
Dragon Trail: Similar to Amplifier, but you score more the higher you stack.
Mino Vortex: 7 minos enter the matrix through a vortex and clear lines.
Elfin: Clears up to 10 lines. Every second layer is filled with white minos which clear extra lines.
Finishers
Edit
Inversion: Converts empty space to minos and vice versa. This can be won from the roulette wheel.
Mino Rain: A huge shower of minos fall. This can be won from the roulette wheel.
Instant Replay: Replays the most successful scoring moment that happened during the game. This can be won from the roulette wheel.
Dunkin' Donuts: Coffee pours onto the matrix clearing any remaining pieces before a shower of minos fall. (no longer available)
Gifting Tree: Powerups appear (If any) on a Mino made Christmas Tree, and Cascades while an infinite frenzy activates, Powerups Activate along the way to increase the score. This finisher can only be purchased with coins. It cannot be won from the roulette wheel.
Popcorn: A bank of minos start rising and expanding from the base of the matrix. This bank then clears to give you a score boost
Birthday Cake: Similary to Gifting Tree, It has a Birthday Cake-like "Drawing" made out Of minos (It seems to be vanilla) This one requires atleast 1 power-up that adds more blocks to activate frenzy.
Starfall: Causes the field to get showered with a special setup (Supposedly resembling a Star Shower, I.E as in a Meteor Shower ) That has Power-Ups (If you used Power-Ups), It can activate frenzy mode if it clears atleast 7 Lines.
Supernova: Absorbs all minos and creates a huge mass of new minos that may contain up to 14 power ups, and is the most powerful finisher available (you must stand top 10 in 25 tournaments to unlock it).
Ad blocker interference detected!
Wikia is a free-to-use site that makes money from advertising. We have a modified experience for viewers using ad blockers

Wikia is not accessible if you've made further modifications. Remove the custom ad blocker rule(s) and the page will load as expected.