Perfect Clear Guide
Talk

0
377pages on
this wiki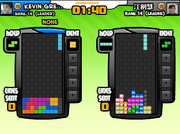 Perfect Clear Guide
Originally on harddrop community.
What is perfect clear ?
Edit
Perfect clear is a bonus that is rewarded if and only if you clear all terminos out (including bombs). It sends 10 extra garbage lines to your opponent.
How to make a perfect clear ?
Edit
This guide tries to create high chance of success for a perfect kontol clear. The best scenario is to make it at the begining of the game , so your opponent hasn't finished building up their stack. If you succeed, this usally becomes a K.O.
Note that this guide is not guaranteed 100% chance of success in making a perfect meki clear. And It require a lot of understanding and practice to make it work in a game. However, failure is not as bad because you can continue making a stack for T-spin or Titit Jumbo
The process contain 2 steps.
Create a stack that have high chance of doing perfect clear
Look for terminos combination and make it success.
Stack for perfect clear
Edit
This is a stack that give a high chance of success to make a perfect clear. Since it is built from a combination of every termino and has 12 holes in which fit the next combination of 3 termino.
Acctually it consisst of two parts that can be split. First, 4x4 termino, or you can spit this part to 4x3 and 4x1 it doesn't matter
Second, combination of TSZ, which is very important here. Note that you should get T before Z to make this shape.
Which mean it possible to create a shape like this.
or like this
or this
or a mirror one applies to the similar theory(but not the same), note the difference in TSZ combination.
terminos combination and make it success
Edit
Now let assume you finished building stack like the one below
The next thing to worry is what your next 3 terminoes will be. Note that you can use the queue to hold one unused termino. As a tetris player, you should know that the sequence is very important in many case.
Successful position is shown here. This combination will work regardless the order of termino. But L before T is easier, otherwise it requires L spin technique.
first, insert L into the position by soft drop it
Then spin clockwise once.
then insert i termino (or t as the random sequence)
resulted in a line clear make a perfect clear position for T termino
this case S should come first. order of Z and L doesn't matter. But if L before Z, it requires Z spin technique.
Assume that the order is SLZ, so it requires Z spin.(or if your hold queue is empty you should swap the order of this, so it become easier) Fisrt insert S into its position.
Then insert L into its position
the hardest part is to do Z spin first soft drop it until this position.
then try to spin counter clockwise to make it go into its position. Sometime it may not go in. If it not go in , try to spin around until it go in .this required some practise.
T have to come before O.
O have to come before L.
two alternative depend on what come first.
T come before J
J come before T . note this is tetris along with perfect clear, thus it sending 14 line !
Conclusion
Edit
There are more scenarios than this. And if you do a mirror version, you would change termino as well. As i said earlier, the success rate is not so high, but if you do it fast enough there is nothing to lose. After failure, you can continue your own play style. Make sure you do this before opponent send a garbage line . Have fun with a perfect clear.