Golden Block

Vital statistics
Type
Special
Reflection
N/A
Rotations
1
Maximum lines cleared

Gold Blocks, also known as Monoblocks, are 4 by 4 golden blocks, featured in the game The New Tetris. Popping one counts as breaking many more lines than you actually broke in popping one. They are similar to Silver Blocks. Gold Blocks are made by fusing four of the same Tetromino together into a 4 four 4 square.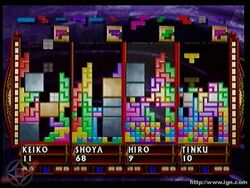 Ad blocker interference detected!
Wikia is a free-to-use site that makes money from advertising. We have a modified experience for viewers using ad blockers

Wikia is not accessible if you've made further modifications. Remove the custom ad blocker rule(s) and the page will load as expected.